If you'd like to keep up-to-date on what the Cast & Crew are doing outside of THE ONCE AND FUTURE NERD, make sure to check this link frequently.
THE CAST:
Rhiannon Angell – Nia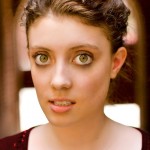 Rhiannon is an internationally produced playwright, voice actor and audiobook producer, based out of New York City. A classically trained actress, she has been telling stories professionally for over a decade and is thrilled to be part of the TOAFN team. As a narrator, she specializes in Young Adult sci-fi and fantasy and has narrated 50+ audiobooks to date, including an Audible bestseller. You can find her full collection here (http://adbl.co/2l9Cf94). To learn more about her recent work, visit
www.rhiannonangell.com.
Garrett Armyn – Brennen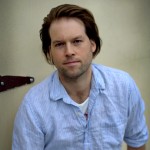 Garrett is from Seattle and is very happy to be part of such a great project. For more information, please visit www.garrettarmyn.com.
Dan Dobransky – Traft, Ardel, Gunther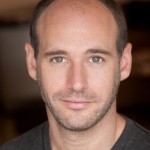 Dan Dobransky is a Brooklyn based actor who spends most of his time improvising on various stages around New York. When he's not making things up, he's performing in front of camera's and behind microphones. He's delighted to have been included in TOAFN and honored to work with such a great group of people. You can catch Dan on screen as Gary McClellan in Jean-Paul Tremblay's "Wildlife", which is currently hitting festivals right now. Go to http://wildlife-movie.com/ to see the trailer or check out http://ddobransky.com to see some other tidbits of his past.
Anya Gibian – Regan, Arlene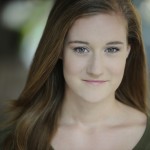 Anya Gibian is an actor, singer, musician, and circus artist. She is thrilled to have been a part of this amazing cast and creative team since the beginning. Recent stage credits include The Pirate La Dee Da and The Velveteen Rabbit (Atlantic Theater Company), Little Did Productions' world-premiere puppet opera Solina (FringeNYC), #serials@theflea, and The Mysteries (The Flea Theater). She created and performed the role of Clara/Lady Percy in "Rain Upon Remembrance" with ParaCosm Theatrics, the immersive theater company she co-founded with Juliana Kleist-Mendez. Anya narrated the audiobook Twenty-Six Roses (Keeper's Daughter) which you can find on audible.com. Check out her website: www.anyagibian.com.
Ian Harkins – Narrator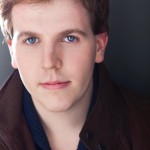 A lifelong New York-Londoner, Ian has worked in New York at Playwright's Horizons, Ars Nova, The DiCapo Opera House, Terry Schreiber Studios, and Columbia University as well as with the Hudson Warehouse Shakespeare Festival. Regionally, he has worked at the Williamstown Theatre Festival and The Ithaca Shakespeare Festival. He has also worked off London's West End and at the Jon Vanbrugh Theatre at RADA. His film and TV credits include BOARDWALK EMPIRE (HBO), AMERICAN HUSTLE (Columbia Pictures), and other HBO documentaries. Degrees from Cornell University and Royal Academy of Dramatic Art, London.
Paul Notice – Nelson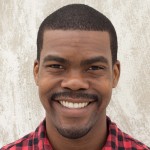 Paul Notice is a New York-based actor and playwright. He spent his undergraduate years at Georgetown University, and his earned his MFA in Dramatic Writing from NYU. Paul's recent acting work includes the Dom Jon in Random Access Theater's Porteguese version of "Much Ado About Nothing," Nelson in the podcast series THE ONCE AND FUTURE NERD, and a featured appearance in American Candy's "Battle of the Sexes." Paul also performed in Passage Theatre's "Samuel J and K," and the 2010 GLAAD Award-Winning "She Like Girls." Other performances include the sci-fi comedy series "Nine Planets From the Sun," Rakesh Burrah's romantic comedy "Gosling," and Larry Bao's play duet "We Will Prevail." Recently, he performed in "The King's Whore" at Walkerspace Theatre. Paul will be performing in his latest written-work "Willow," a dark satire about Social Darwinism, in the Winter of 2013. For more information please contact Paul via email at:PaulAnthonyNotice@gmail.com.
Juliet Prather – Gwen, Ry'y lo-Th'yyt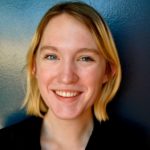 Juliet Prather is an improvisor, writer, and producer living in New York City who is pumped to be a part of The Once and Future Nerd. She began her training at ColdTowne Theater in Austin, TX where she co-created the all-female comedy festival, BettyFest, and co-produced the sketch comedy show+party, So Juiced. She has since trained at iO Chicago and is currently in the Advanced Study Program at UCB NY. You can see Juliet dancing the sacred dance of improv with her teams, Patio Talk and Flavortown, and performing in the all-female character show she produces, Painted Toe Comedy Hour.
Frank Queris – Billy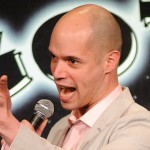 Frank Queris is excited to be working on THE ONCE AND FUTURE NERD. Born and raised in New York City, Frank is a part-time stand up comedian, actor, and writer. When he's not on stage making people laugh, he's still being laughed at as a high school English teacher out in Canarsie, Brooklyn.
Julie Reed – Jen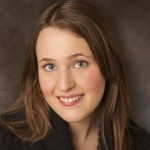 Julie is psyched to be working on THE ONCE AND FUTURE NERD with these awesome people! A New York native, Julie moved back to BK after graduating from Cornell as a Theater major. She is currently pursuing an acting career while teaching preschool to the most adorable kids ever. Julie spent the past two summers acting at the Berkshire Theatre Festival and at Shakespeare in the Valley. Julie also had the wonderful experience of traveling to Turkey with the International Culture Lab to perform a lead role in the play S/he in the "Honor Games" Festival at Garajistanbul. Recent roles include Val in A CHORUS LINE, Jaquenetta in LOVE'S LABOUR'S LOST, Catherine Empanger, a naive nun with Tourette's syndrome in NICE PEOPLE DANCING TO GOOD COUNTRY MUSIC, Helena in A MIDSUMMER NIGHT'S DREAM, and Ulla in THE PRODUCERS. She is currently a member of The Actor's Project NYC. Julie loves going to classes at the gym with her fierce, kick-ass grandma, margarita nights with her girlfriends, and her pit bull Lady. A huge thank you to her wonderful friends and fam for their love and support!
Gregory M. Schulz – Yllowyyn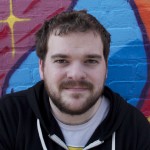 Greg is honored to get the chance to work on The Once and Future Nerd! Although not a professional actor, he has a history of stage plays and on screen acting through high school and college. Originally hailing from Maine he now resides in Jersey City and works on the internet in Manhattan. When not working or generally being nerdy, Greg plays drums in the band Duckspeak, which can be found sporadically at Manhattan or Brooklyn bars.
FORMER:
Lily Drexler – Gwen, Ry'y lo-Th'yyt (Bk. 1 Ch. 4 – Bk. 1 Ch. 10)
Hayes Dunlap – Yllowyyn (Bk. 1 Ch. 1 – Bk. 1 Ch. 6)
Emily Kuckuk – Gwen, Nia, various female (Bk. 1 Ch. 1 – Bk. 1 Ch. 3)
Perry Strong – Nelson (Ch. 1 – 2)
Dylan Uremovich – Ardel, Gunther (Ch. 1 – 2 )
THE CREW:
Jared Paul – Production Sound Recording
Josh Perault – Associate Editor (Ch. 8 – present)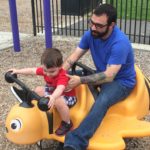 Josh is an online editor in the world of TV and Film Post Production, with notable credits in season 2 of USA's "Mr. Robot," HBO's "High Maintenance," and the feature films "Dog Eat Dog" and "Keeping Up with the Joneses." When not in the editing bay, he takes up the mantle of dad, dungeon master (and player), gamer, and film enthusiast. Originally from Long Island, N.Y., he graduated from Dowling College and started working in Manhattan in order to meet his (now accomplished) goal of becoming an editor. In the process of doing so, he met TOAFN's co-creator Christian and, much to Josh's enjoyment, later joined the TOAFN crew. Josh is known for his ever-fuzzy beardy face and his nerdy tattoos.
John Flanagan – Original Artwork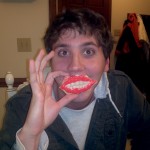 John is a poor white boy and amateur free-lance artist from upstate NY. While trying to complete his degree in Information Sciences, he enjoys listening to music, buying coffee-table books for his non existent coffee table, running, not starving, and improving his art skills. He's absolutely thrilled to be working on such a great project with great people and hopes to continue bringing the visual world of TOAFN to life.
FORMER:
Brian Forbes/The Gallery Recording Studio – Production Sound Recording (Bk. 1 Ch. 5 – Bk. 1 Ch. 10)
Gary O'Keefe – Production Sound Recording (Bk. 1 Ch. 1 – Bk. 1 Ch. 7)
Sam Palumbo – Additional Audio Engineering, Sound Mixing & Design (Bk. 1 Ch. 7 – Bk. 1 Ch. 10)
Joe Paulino – Remote Recording (Bk. 1 Ch. 7 & Ch. 8)
Sandra Ramirez – Lead Post Production Mixer and Sound Designer (Bk. 1)
Tommy Stang – Dialogue Editing & Foley (Bk. 1 Ch. 1 – Bk. 1 Ch. 2)
Pedro Tarrago & Miguel Patriota – Post Production Mixing and Sound Design (Bk. 2 Ch. 1)
MUSIC:
Tom Lee – Main Theme Composer
Main Theme Personnel:
Johnathan Altman-Ezzard – Tuba
CJ Dunaieff – Percussion
Kate Goddard – Horn / Violin / Viola
Frank Huber – Trumpets / Vocals
Dan Jordan – Bass Trombone
Tom Lee – Vocals / Composition / Executive Producer
Ching Wai Lo – Cello
Alex Schirling – Vocals
Justin Tinker – Vocals
Lauren Wuerth – Piccolo
George Dikun – Engineer / Mixer/Producer
Justin Tricarico – Engineer / Producer
Joe Tucker – Engineer / Producer
Chris Montalbo – Additional Score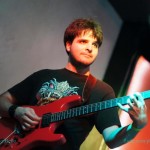 Christopher Montalbo is a part time composer, synth freak and sci-fi fantasy enthusiast from Queens, New York. Being a huge fan of film score and sound design, Christopher is grateful for the opportunity to contribute to THE ONCE AND FUTURE NERD series.
PRODUCERS:
Zach Glass – Co-creator, Executive Producer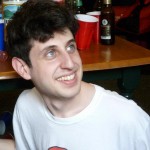 Zach is a scientist (PhD student in bioengineering), who happens to have read a ton of fantasy novels, and thus was called upon to bring the Nerd to the creation of TOAFN. His qualifications for working on this project include: Has read many many many fantasy / scifi novels, has played many many video games, has watched a fair share of fantasy and scifi movies and tv shows, and has dabbled in D&D. Currently try-hard gold league Protoss, NA server, in SC2. As there are no relevant personal links to contribute, here is a a brief acknowledgement: The web presences of Brandon Sanderson, the Marek vs Wyshynski podcast, and Day[9] have all reinforced the message "If you want to make something happen, put in the effort, do the work, and make it happen yourself". He has never met any of those people, but their awesome work inspired a large part of the effort that moved this project from a far-fetched idea to where it is today. Thank you for your inspiration, your stuff is awesome.
Christian Madera – Co-creator, Executive Producer, Director, Supervising Editor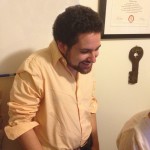 Christian got the seed of an idea for THE ONCE AND FUTURE NERD a couple hours into one of his troublingly frequent SKYRIM binges, and immediately knew Zach was the right person with whom to develop it. Christian graduated with a double major in Film and Philosophy (because if you're gonna have an unemployable degree, might as well make it a double) from Cornell University, where he directed short films which were totally NOT romantic comedies, and played alto sax in the marching band and pep band. But probably his greatest claim to fame is that you can see his doctor's office in the screen right corner of one establishing shot of the firehouse in GHOSTBUSTERS. When not working on TOAFN, being a rock & roll snob, or trying to nail the co-executive producer, Christian works as a film and video editor. He could not be more pleased with the talented group of people he has found to help him realize this bonkers idea.
Jess Kelley – Co-executive Producer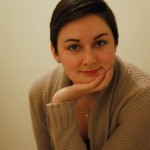 In addition to keeping THE ONCE AND FUTURE NERD running smoothly, Jess spends time writing multicultural fantasy fiction, studying improv comedy, and devouring books like there's no tomorrow. She's living the dream. She would like to thank the rest of the crew and cast for working so damn hard and being so talented, because if it was up to her, this podcast would just be a long string of poorly re-enacted Donald Glover standup. So thank god, really.
Associate Producers:
Alec Story
Ryan Cushman
ACKNOWLEDGEMENTS –
The producers wish to thank the following people, who aided in the development of this project:
Andrew Arnold, D.L. Barron, Linda Barsi, Jamie Buckner, Caitlin Cowie, Kate Murdoch