Our friends at Two Grey Dogs Designs are an awesome Etsy shop, where they hand-dye yarn for knitting, and hand-craft jewelry to match. They've been making some yarns inspired by our show, you may remember them from their yarn design inspired by Brennen's Dreams, as well as the earrings to match.
Well, we are happy to announce their newest TOAFN-inspired yarn, Not All Necromancers!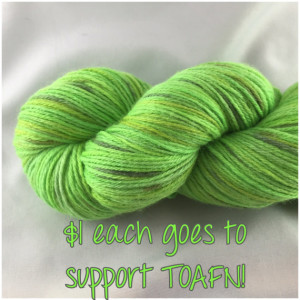 As you may have guessed, this color scheme is inspired by everyone's [least] favorite undead lich. The yarn's neon green comes from the green poisonous attack that Renault D'Esprit uses against our heroes in Chapter 8. Check it out, and consider it as a gift for your favorite knitter in your life!
We are also happy to announce that we've officially partnered with Two Grey Dogs! Any sale they make on a TOAFN-inspired product, we'll get a bit of support, and in exchange we'll shout out their Etsy shop. We've also linked to them on the menu bar above.  So we hope you check them out!