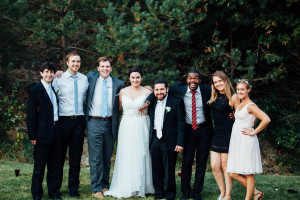 Very sorry, the conclusion of book four will be released late; we'll have it up as soon as it's ready. It's a very complicated episode and we wanted to make sure it sounds right.
Also, we had this thing we had to do.
Left to right: Zach Glass, Co-Creator; Alec Story, Associate Producer; Ian Harkins, Narrator; Jess Kelley-Madera, Co-Executive Producer; Christian Kelley-Madera, Co-Creator; Paul Notice, Nelson; Julie Reed, Jen; Anya Gibian, Regan & Arlene.
Photograph courtesy of Craig Griffin.